A year and a half ago just before the pandemic, I was on a plane, heading home from Florida, bawling my eyes out after watching one quiet, but pivotal scene from the movie "The Farewell." Little background about the movie: it's about a family gathering together to secretly say goodbye to their dying, but oblivious grandmother under the guise of a wedding.
The scene was a simple one. No overly dramatic acting. It was just Awkwafina's character and her mother driving away to the airport after saying goodbye to the grandmother. I remember the look of the grandmother, holding back her emotions as they drove away and then Awkafina and her mother silently weeping in the car. Yeah, I totally broke down, wet faced, runny nose and all.
Rewind to about twenty years earlier. I was at my lola's house. Everything looked exactly as it did ten years ago when I was just a kid, spending my summers at my grandparent's place. Maybe a few furniture moved from here to there, but otherwise, everything was exactly as they were.
It was house full of curiosities. There were chandeliers, large shelves encased in glass, filled with mementos and souvenirs from travel, seashells from the beach, dolls from foreign countries, Don Quixote and Sancho figurines, Reader's Digest magazines, and piles and piles of photo albums which I would pore over. My lola, like my mom, gave me plenty of things to be curious about.
I remember those faded paintings on the wall, the ones that never made sense to me back when I was a kid: a group of bearded men in funny, old-timey clothes walking together in a very dimly lit background; a weird looking couple of a woman with a snide glance, sitting next to one happy fellow who I first mistook for a woman, but then realized later on he had a mustache; that strange-looking painting of what appeared to be a squiggly and misshapen outdoors restaurant at night. It was hard to tell. The concept of an outdoors restaurant in a country where it is constantly raining never existed in my mind then. Then there was that painting of a ship in the midst of a storm. On the frame underneath was a name engraved: Jose Montero.
I also remember on the first landing on the staircase, a large collection of tiny blue and white porcelain houses lining the wall. I remember looking closely through these with my sisters, picking our favorite and declaring that that's the house we're going to live when we're grown up (we were planning to become neighbors too!). I always picked the tallest, fattest looking house with slanted roofs at front because, of course mine had to to look different than the rest, and also you know, the bigger the better, right?
I didn't know where they were from, back then. They looked like European houses, so they must be from… America? (As a child growing up in a third world country, the only countries that existed in my head then were Philippines, China and the U.S. so shaddap!)
It's not until years later that I learned where those little blue and white houses came from. You see, my lolo used to train with KLM Royal Dutch Airlines. And with that came the perks of not just discount plane tickets, but also a bump to first class for my lola. If you're not familiar with KLM, they give away these miniature, Delft Blue houses filled with Dutch liquor if you ever fly first class with them. That's where these houses were from.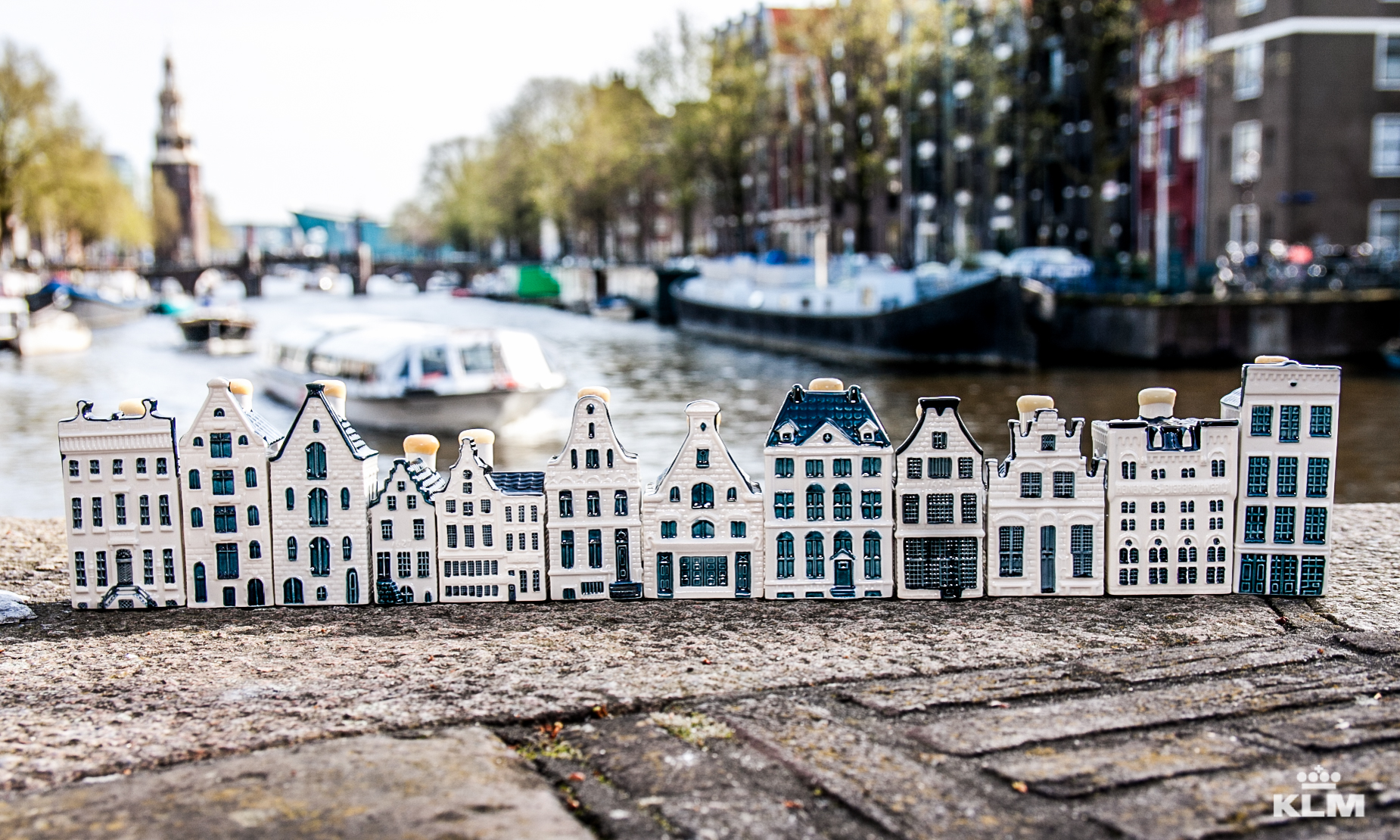 And those faded paintings? The squiggly and misshapen outdoors restaurant at night turned out to be Van Gogh's "Cafe Terrace at Night."
The weird looking couple was a self-portrait of Rembrandt with his beloved wife, Saskia during happier times. (Although I was originally weirded out by this painting, the story behind it made me understand better why my grandparents picked it.)
And the one with the group of men was Rembrandt's "Night Watch."
What do these two artists have in common? Well, they were Dutch. It all came together, my grandparents love for the Netherlands.
And then finally, the painting of the ship in the storm with the name Jose Montero underneath. That was painted by my great uncle. And the name, Jose Montero? He was a captain of a Spanish Galleon ship and my great, great, great grandfather. It was a story my lola often told me about. Interesting tidbit.
So yeah, I have my lola to thank for why I am always curious. My love for reading, travel and art museums were all because of my mom and in extension, my lola.
Now back to that moment twenty years ago, the night my sisters and I were leaving for the airport. We had just spent two weeks at my lola's house. Everything looked exactly as it did ten years ago when I was just a kid. I wasn't quite ready to say goodbye so I kept my eyes glued on the seat in front of me, just to keep myself from crying. When the car started, I turned to the window to look at my lola and the house one last time. It was dark, but I could still see her, holding her hands up to her mouth as if trying to hold back emotions. I couldn't keep my eyes away and kept it there until we finally turned a corner and I lost sight of her.
And that's exactly why I bawled my eyes out when I watched that scene from "The Farewell." But no worries. I got to see her again ten years after.
Today, my lola turned 100. I should've been there, celebrating, but because of the pandemic, I couldn't. So instead, I spent it at the nearest art museum. I figured it's the perfect place to reminisce.